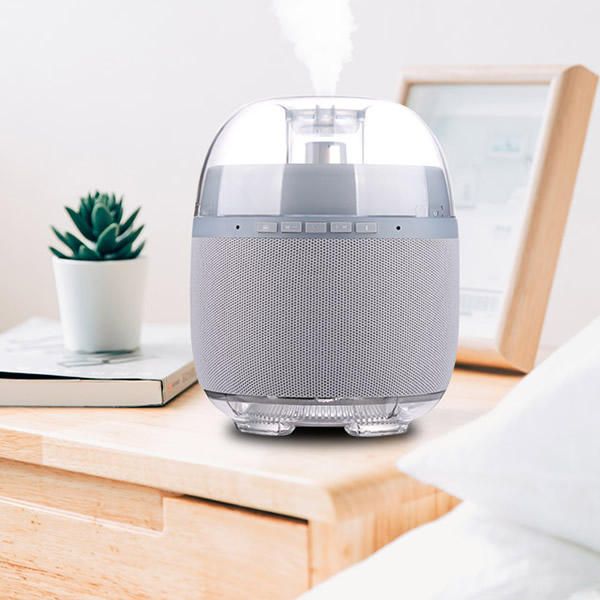 A look at the shape and design
Nowadays, the speakers on the market are really strange. What kind of speakers are there, but we are dazzled. First, the appearance of the speakers determines the sound of the speakers. A square shape or a rounded speaker will give a visual feast. The sonos one has a minimalist appearance, and the matching color is matte black or minimalist white. It looks cleaner and the shape is round and delicate. The fitting is fixed with self-adhesive. It is one-piece and more textured. The top is touched. The buttons are smart and smooth, and the bottom is concealed to hide the lines, making them look cleaner from the outside.
Second, look at the sound color
The tone is the "soul" of the whole speaker. The sound is good or bad, which is related to the quality of the whole speaker. Sonos one supports the intelligent voice function, which means that it needs to receive the user's instructions, so there are 6 built-in sonos one. Microphone, receiving commands from different directions, built-in two Class D amplifiers, one tweeter and one mid-woofer, two internal digital sounding chips from the Italian, ensuring the clarity and penetrating of its high-pitched sound, and the thick bass Full, in the sound calibration, SONOS's exclusive Trueplay technology, through the placement of the speakers, automatically adjusts the best sound according to the sound and the echo of the wall. Don't look at him small, the voice is still very explosive, the strength can not be underestimated.
Look at brands and services
I believe that the brand is also very important in everyone's mind, big brand, quality
Good, trustworthy, and sonos is a US-listed company that builds integrated wireless smart speakers and home theater audio. Of course, big brands have to keep up with after-sales, sonos has its own professional after-sales team, in the event of problems, you can solve the problem in the first time to ensure the user's daily experience.
See you for your intelligence
Nowadays, the speakers are getting more and more intelligent. For example, little love classmates, a cat elf, AI and so on more and more smart speakers appear. Which one is more suitable for us? The average smart speaker has one or two microphones to listen to the instructions. It takes a long time. The microphone is blocked by the dust. When it is used, it is called several times. He has not responded yet, even shouting at the microphone. This is awkward. Sonos one has 6 built-in microphones to recognize commands in all directions. Even when you listen to music, you can recognize your commands and the music is automatically paused.