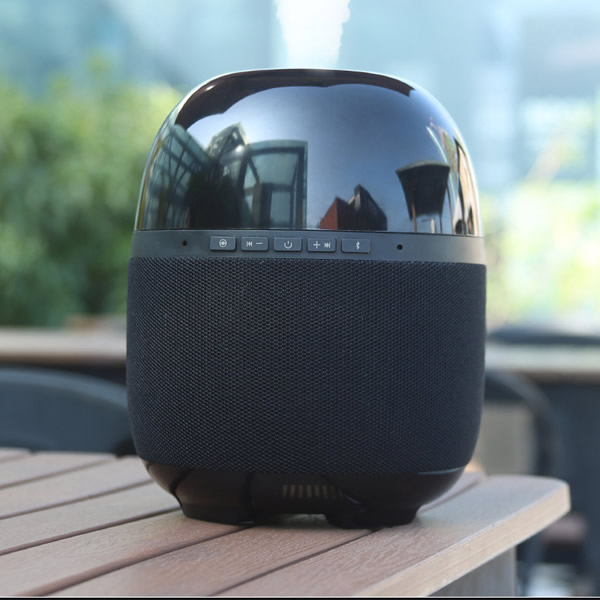 According to statistics, in the fourth quarter of last year, China's smart speaker shipments reached 8.6 million units. Baidu, Xiaomi and many other Internet companies have been deployed here. From niche speakers to smart "housekeepers", how does smart technology "play" the speaker industry?
Extend space with interaction
When it comes to speakers, many people associate them with "music enthusiasts." Once upon a time, speakers that focused on sound and chasing sound quality "live" in a relatively niche market. Today, the speaker has become a fashionable technology item, and received a warm response from the market.
"Smart speakers are becoming the 'hub' of smart homes, and the biggest change is in the word 'interaction'." Baidu vice president Jing Wei said that smart speakers are considered to be the most suitable products for artificial intelligence through voice. Through artificial intelligence to achieve voice and even visual interaction, the speaker is becoming a carrier, bringing more information, information, video calls, camera monitoring and more.
The root of the interaction is the connection. From the Internet to the Internet of Things, from interaction with people to the Internet of things, smart speakers expand the actual functions by connecting, meet more needs, and trigger market response.
The data shows that in the fourth quarter of last year, China's smart speaker shipments reached 8.6 million units. It is estimated that by 2020, the sales volume of smart speakers will exceed 1 billion yuan.
Make a big "cake" with ecology
The "smart" of the speaker is not only reflected in the communication with the user, but also in the connection with electrical appliances and furniture. Today, smart speakers have become a part of the smart home ecosystem. By actively integrating and building an industrial ecosystem, the market "cake" is getting bigger and bigger.
A phenomenon worthy of attention is that many domestic smart speaker manufacturers are opening up cooperation with home appliances such as TVs and refrigerators, and opening up resources such as data, technology and traffic, and incubating a series of derivatives such as smart switches and wireless sensors. Designed to provide smart home solutions.
For example, Baidu cooperates with brands such as Haier, Lenovo and Skyworth, and lowers the access threshold to share data and traffic with more software vendors and hardware entities. Xiaomi will use smart speakers and smart lights, air conditioners, rice cookers and air purifiers. Connect, build a home ecosystem based on your own brand, and more. Many manufacturers incorporate screens and speakers, and carry more intelligent features.
"There is a family behind a piece of equipment. There is a lot of imagination in it, and it will bring a lot of service contacts." Jing said.
Experts believe that mutual integration and dual use are the key to industrial development. The open model not only helps promote unified standards, but also accelerates cooperation in all aspects. Integrating speakers with more electrical appliances and furniture will build a broad market of "smart products + intelligent services".
Building the industry foundation with safety
As smart speakers gradually become intelligent "housekeepers", the requirements for safety are getting higher and higher. On the one hand, more and more devices are connected, and on the other hand, more and more user habits and data are collected. While building a smart home, it is more and more urgent to build a home safety network.
"Every device may become the target of attack." Zhou Hongyi, chairman of the 360 Group, said that smart speakers must not only create an ecosystem of industrial innovation, but also build a security service ecosystem, using product interconnection, cloud services, routers and firewalls. Wait, create a "safe brain."
The Ministry of Industry and Information Technology proposes to support the application of smart sensing and Internet of Things technologies in smart home products, and to improve the intelligence level, practicability and security of products such as home appliances and intelligent network devices. For the key industries of artificial intelligence such as smart homes represented by smart speakers, we will carry out security technology research such as vulnerability mining and security testing, and accelerate the construction of shared resources such as vulnerability database and risk database. By 2020, improve the layout of the artificial intelligence network security industry.